American Baptist Support
The following denominational supported groups are supported through the giving of the people here at First Baptist Church.
---
Non Denominational Missions Supported
His Kids Ministry
Reaches out to teenagers in Massachusetts through...
Radio ministry of contemporary Christian music
Skate Nights
Outdoor evangelistic events
---
Comments From The Friends
A ministry to those involved in Jehovah's Witnesses and other cults. Find more information on this ministry at Comments From The Friends. This mission was started by former member David Reed. David is an accomplished author and webmaster and appreciated worldwide for his knowledge of Jehovah's Witnesses and other cults.
---
New England Teen Challenge
Teen Challenge is a national organization that helps free young men and young women from the bondage of addictions. In addition to our support through our mission budget, we invite the men from the Brockton Center to minister to us each summer.
---
Vision New England
Vision New England is an organization that provides support to evangelical churches throughout New England.
---
Good Samaritan Hospital in LaRomana, Dominican Republic
Since 1986 First Baptist has been helping the Haitian Baptist Churches in the Dominican Republic minister to the Haitian people in that country. Through this effort churches have been constructed in several bateys, and the Good Samaritan Hospital was started. Now many other churches and groups across the United States in the American Baptist denomination and several other denominations have joined in the work. Today the Good Samaritan Hospital serves thousands of patients each year, even though construction is still going on.
Each year teams of volunteers travel to the Dominican Republic to help with the construction of the hospital and to help conduct medical clinics in the bateys. Here is a slide show of one of our trips to LaRomana you can download. Please note that this is a large file and will take four to five minutes with a fast connection. The file requires Microsoft's Windows Media Player .
Interested in joining us on a mission trip to LaRomana, Dominican Republic? View trip information.
In addition to coordinating teams of volunteers to travel to the Dominican Republic our church provides financial support from its own members.
Good Samaritan Hospital
Christian School in San Pedro de Marcoris
---
Campus Crusade for Christ/Josh McDowell Ministries
Ward and Joan Coleman work with The Josh McDowell Ministry. They spend most of their time now on the Beyond Belief campaign. The campaign's focus is on helping teens across the United States realize the truth of the Gospel of Jesus Christ. Truth is not relative as is being taught today. (Heard the phrase "true for you"? ) Truth is absolute.
---
Frontiers
We support the work of Frontiers. Frontiers is an organization that reaches out to Muslims with the love of Christ.
---
Operation Christmas Child
Operation Christmas Child is a program of Samaritan's Purse . Operation Christmas Child asks individuals to ...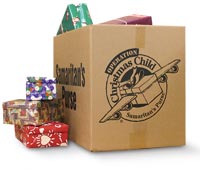 pack a shoe box with toys, hygiene items, and school supplies;
add five dollars to help with the shipping costs;
then wrap the shoe box (cover separately) in Christmas paper;
and bring it to a collection point.
First Baptist Church has served for several years as a relay center for Operation Christmas Child. Our Relay Center Information.